In Memory
Barbara Parrott (McGinity)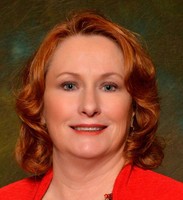 Barbara Parrott McGinity passed away suddenly on Feb 7,2016 the following is from her beloved husband Mike: "... She passed away unexpectedly in the city she loved best,in the middle of the weekend of doing what we liked best,exploring Houston and Houston theatre. As we all know Barbara kept us organized so bear with me as I get plans for a finalized "party" to celebrate a true one of a kind in a one of a kind way. (Details below) There are several tributes to her:
http://www.uh.edu/socialwork/news/in-the-news/2016-2-17_BMcGinity/
http://www.virtualmemorials.com/main.php?action=view&mem_id=26976&page_no=1.
"Hello Everyone,
This is Michael McGinity. The Celebration of Life event for Barbara Parrott McGinity will be on April 30th. It will be in our backyard where many of you joined us for a variety of fun times.
Please bring your memories, a story or two, and of course any pictures that you would like to share. And also feel free to pass the word in whichever Barbara circle you are part of.
...
More details to follow but I expect it will be a bittersweet but fun time that will last all day and into the night as most of our events always seemed to do.
Thanks,
Mike"
Barbara Parrott McGinity's Celebration of Life Event will be held on Saturday, April 30th at the MicGinity home located at 4502 Tilson Lane in Houston, TX. The event will take place from 11:00 am - 8:00 pm. All are welcome.